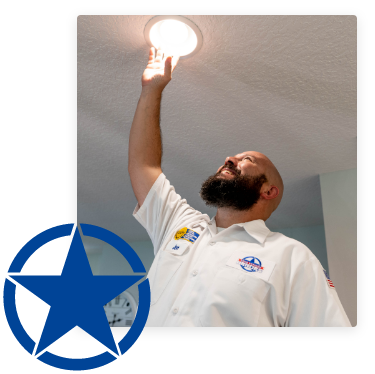 Your electrical system is made up of many complex components. For all the components to work together in harmony to provide for your electrical needs, they must be installed correctly. It takes a skilled electrician to achieve this. Not only is it tricky to install electrical components, but it is also highly dangerous. Leave the risk to a trained professional. Home Service Heroes can take care of all your electrical installations in your Tampa home.
If you need our expert electrical installation services, contact us at (813) 696-3398 or online to schedule an appointment with us.
Our High-Quality Electrical Installation Services
When it comes to your electrical installations, you can trust Home Service Heroes to ensure that they are done safely and correctly. Our electricians will make sure that your house wiring is functional and does not pose a threat to those who use it.
Lighting
Installation
---
Whether you are building a new home or giving your current one a makeover, lighting is essential. By installing new lighting in your house and garden, you give your property a completely different style. While lighting has its functional purposes, it also adds to the décor in your home. The right lighting can bring attention to special features around your house and garden. Call us to discuss innovative ways to brighten your home.
Surge Protector Installation
---
A whole-house surge protector is much more effective than small surge protection strips. They will keep your home safe from harmful voltage spikes that cause severe damage to your devices and appliances. Contact us to install your whole-house surge protector before the next power surge happens.
Smoke Detector Installation
---
As per NFPA regulation, all homes are required to have smoke detectors. Each sleeping room and every level of your home needs a smoke detector installed. This is not an imposing regulation since a smoke detector can give you time to evacuate the house in the event of a fire. A smoke detector will alert you as soon as smoke comes into contact with the sensor. If your smoke detectors have reached the end of their lifespan, we can install new ones so you can keep your family safe.
Carbon Monoxide Detector Installation
---
If you have a gas-powered stove, furnace, or water heater, there is always a risk of carbon monoxide being released into your home. These appliances are designed to remove the excess carbon monoxide from your home, but if there is a problem, this harmful gas can enter your home. Carbon monoxide is an odorless and colorless gas, making it impossible to detect without a carbon monoxide detector. Install a carbon monoxide detector in your home to keep you and your family safe. This is especially crucial if you own gas-powered appliances.
Ceiling Fan
Installation
---
Cooling your home down does not have to lead to a sky-high electricity bill. A ceiling fan can provide light and a cool breeze to your home. Home Service Heroes can offer a wide variety of ceiling fan designs to suit your needs. Installing a ceiling fan should only be done by a trained professional. This is a complicated task that involves working with your home's wiring.
Electrical Panel Installation
---
Your home needs an electrical panel that can rise to the occasion and delivers enough power to all your appliances, outlets, and lighting. You may need to replace your electrical panel if it can't keep up with your power demand. Circuit wiring is no problem for our skilled electricians. Contact us today for reliable electrical panel installations and circuit wiring.
Outlet and Switch Installation
---
Faulty outlets and switches are a major inconvenience. Not having enough outlets around your home can also be frustrating. We can install brand-new outlets in your home to make your life simpler. Outlet wiring is not something that should be handled if you aren't familiar with electrical systems. Hire a qualified electrician to get the best results.
Electrical Wiring Installation
---
Every home needs to be rewired after some time. Damaged house wiring is a fire and electrical hazard. We can redo your home wiring so you can have peace of mind knowing that you and your family are safe from electrical dangers. If don't know the condition of your wiring, our experts can inspect your electrical system and provide a lasting solution. Contact Home Service Heroes for your home wiring.
Residential Electrical Installation Services You Can Rely On
When you need a trustworthy electrical company in Tampa, look no further. We are ready to assist! Home Service Heroes values its customers. Our friendly electricians will respect your home and time. We will ensure that you are completely satisfied with our work before we leave your home. Excellent service is just a phone call away.
Contact us online or call us at (813) 696-3398 for more information on our residential electrical installations in Tampa, FL.