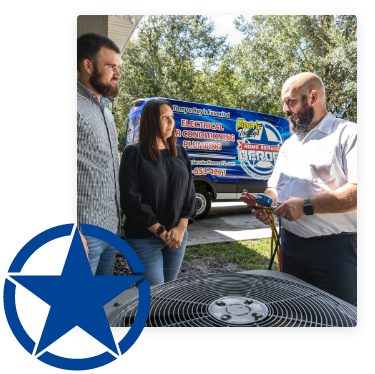 Most electrical companies would rather you spend money on replacing your air conditioning and electrical systems. It gives them more of a profit and lets them upcharge you with installation fees and sell you expensive systems that you may not need for your home. Rather than doing regular checkups and trying to save you money, most electrical companies would want to take as much money from you as possible and wouldn't offer a maintenance plan.
Here at Home Service Heroes, we pride ourselves on honesty and integrity. That's why we are now offering a SafeGuard Savings Plan to help reduce breakdowns and increase efficiency for your air conditioning and electrical systems. We offer it only to people like you who really love your home and want to protect it from unexpected electrical breakdowns. We believe in saving you money rather than having you spend more than you need to. With the SafeGuard Savings Plan, you can save money and keep your air conditioning unit and other electrical systems in good condition.
What's in it For You?
With a SafeGuard Savings Plan you will receive:
Two scheduled service and maintenance visits to extend the life of your air conditioning system and keep it running at optimal performance.
One annual scheduled electrical safety inspection and tune-up.
Discounts on all electrical and air conditioning repairs.
Discounted emergency rates.
Reduced Service Call Fee (normal business hours).
Periodic specials and discounts are only for members.
Peace of mind knowing your system is safe and protected!
We value our Tampa Bay residents and we understand the importance of saving money.
With the SafeGuard Savings Plan, you can have scheduled services at discounted prices and regular maintenance checkups so you can get the most out of your air conditioning units and electrical systems. When it is time to replace them, we offer an upfront quote detailing exactly what your job will cost before we start. Even as we are working on replacing your systems, we will not charge hourly. We are a "no gimmicks" company and we believe in working with honesty and integrity. Surprise charges at the end of a job are not something we are about and that sets us apart from other electricians. Home Service Heroes is all about sustainability and increasing the longevity of your electrical appliances. Implementing our Safeguard Savings Plan allows us to ensure you're not paying unnecessary costs because of unexpected electrical breakdowns.
If you are interested in enrolling for the SafeGuard Savings Plan, contact Home Service Heroes anytime. Don't wait until you need to get your air conditioning or electrical systems replaced!

Our customers know what to expect when they hire us and the reason they keep coming back is quality and 100% customer satisfaction.