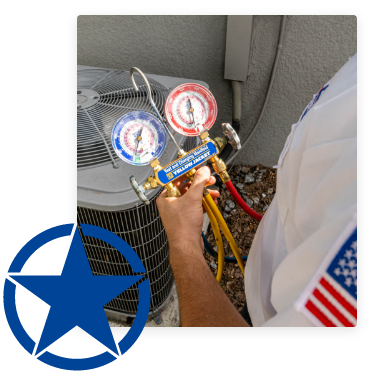 If anyone understands the importance of a properly functioning HVAC system as well as a homeowner, it's Home Service Heroes.
Home Service Heroes has proudly served homeowners and businesses since 1999 by providing top-quality HVAC services and keeping their homes and offices comfortable year-round. Whether you need a repair, routine maintenance, or installation, our technicians are skilled HVAC service providers excited to work with the residents of Bradenton, FL.
Solutions for All Your HVAC Service Needs
What type of HVAC service does your home or business need today? Home Service Heroes provides a variety of HVAC services. We can fix any of your HVAC-related issues, including:
Air conditioning
Heat pumps
Zoned air systems
Mini-split systems
All of our HVAC services include a final check to ensure your unit works properly before we leave your home or business. When the HVAC system in your Bradenton, FL, home or business malfunctions, it could be a minor problem or a major issue. Our technicians will diagnose the problem and discuss the most affordable options with you.
We provide a detailed quote before we even begin the job to make sure there are no surprise bills later. Our prices are based on the job, not on the number of hours it may take. This means that you don't pay more if the job takes several hours or days longer than we expected.
Common HVAC Problems We Service
Whatever the job requires, the team at Home Service Heroes can handle it. A faulty HVAC could be the result of one or more issues within the system:
Thermostat malfunctions
Dirty ductwork
Mechanical wear and tear
Clogged condenser or evaporator coils
Blown fuses or tripped breakers
Pilot or ignition problems
Noisy motor or blower
Repeated cycling
Water leaks
You can prevent many HVAC problems with regular and professional routine maintenance. We believe in addressing minor problems before they become expensive issues. During a routine maintenance check, we look for any potential concerns that could make your Bradenton, FL, home or business uncomfortable during intense weather.
Our maintenance plan provides two full system inspections that include checking the coils, compressor, capacitor, and refrigerant. If you sign up for our Safeguard Saving Plan, you'll receive a 10% discount on repairs, coupons for emergency service, sale specials, and we will waive service call fees during business hours.
Why Choose Home Service Heroes in Bradenton, FL?
Home Service Heroes are available 24/7 to care for your HVAC needs and problems. Our team has won multiple awards for their dedication to quality service and customer satisfaction, including induction into the Home Service Hall of Fame.
Family Ownership
As a family-owned and -operated business, we understand the importance of keeping your home or business comfortable because we want the same for our families and employees.
Customer Service
Our goal is to provide the highest level of customer service and satisfaction. Home Service Heroes promises an on-time response to your service needs every time you call. If you ring our service center by 10:00 a.m, we provide same-day HVAC service appointments.
You will always speak with a real person when you call, never a recording. And we always adhere to the strong ethical code and core values that make our company honest and dependable.
Heavy Employee Vetting
We realize that it can be uncomfortable to have strangers in your home or business. That's why we provide a courtesy call before we arrive.
Also, every one of our technicians is bonded, insured, licensed, and drug-tested. We also conduct thorough background checks on our employees to ensure their reliability and trustworthiness.
Call Home Service Heroes Today!
If you need HVAC services in Bradenton, FL, contact Home Service Heroes today. Our team will arrive on time, finish the job as quickly and efficiently as possible while maintaining the highest standards of customer care.