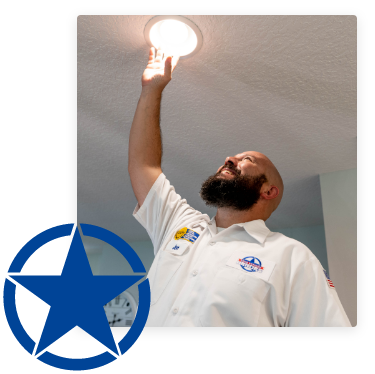 Without good lighting, in our homes, many tasks may become difficult or even impossible. Lighting also influences our mood and performance. It can add value to the aesthetics in our homes and allow us to do everyday activities easily.
Home Service Heroes offers residential lighting installations in Tampa, FL. We know how important the right lighting is inside and outside your home. For practical, aesthetic, and security reasons, lighting needs to be installed by a professional electrician. We aim to find the right lighting that will suit your home and your needs.
Call us today at (813) 696-3398 for all the indoor and outdoor lighting installations that will bring value to your home and save you money.
Ceiling Fan Installation
A ceiling fan can offer your home tons of advantages. In addition to being a stylish feature in a room, a ceiling fan is relatively easy to install. It may also offer more practicality and versatility. A ceiling fan is a great way to keep your home cool while saving energy. Call us to discuss the right ceiling fan for you.
Indoor Lighting
If you are looking to upgrade your current lighting that has been in your home for many years, or you just need to add on to the current lighting, there are many options that are available today. With the advancements in lighting technology, lighting has become more energy efficient than ever while offering the latest style and technology. With that being said, how do we know what lighting installation to choose for our homes? Here is a guide to show what each type of lighting offers:
Recessed Lighting
Recessed lighting can offer your home a sleek and modern look while giving you substantial lighting. This light fixture does not take the attention away from the décor in your home but brings attention to it. While being flush on your walls, they blend in with the room. This is perfect for feature walls, art pieces, and bathroom lighting.
Task Lighting
When you have a task at hand that needs good lighting, such as cooking, writing, or working in a workshop, task lighting is what you need. Its purpose is to provide close-range lighting for specific tasks and allow you to focus on what you are doing. Without proper task lighting, some activities may become difficult. This is usually installed in kitchens, studies, and workshops.
Accent Lighting
Accent lighting brings attention to features in your homes, such as art or certain areas in the room. It is carefully placed so it can draw your eyes to these features. If you are looking to highlight something in your home with accent lighting, give Home Service Heroes a call, and let us take care of your lighting.
Chandeliers
Chandeliers come in a wide variety of sizes, materials, and styles. This gives you many options to choose from and allows you to find a chandelier that will fit the aesthetic and practical needs of your home. A chandelier not only provides lighting but can also be a key feature in a room A chandelier is usually bold and the center of attention in any room.
Choosing the right indoor lighting installation can change the way your home looks. Contact us for the right residential lighting installation.
Outdoor Lighting
You likely spend more time inside your home than outside. That does not mean that your outdoor lighting should be inferior. Outdoor lighting installations are as important as indoor lighting installations and should be treated the same way. Outdoor lighting can offer your garden many benefits. In addition to making your garden look amazing, it can also offer practicality and security. Choosing the right light fixture installation for the outside of your home can be tricky with the many options available. Let us help you choose the right outdoor lighting installation for your home:
Landscape Lighting
You may have a beautiful garden that needs to be seen as much as possible. Good landscape lighting can bring your garden to life at night. Landscape lighting can also be installed in patio areas so that you can enjoy leisure time with your friends and family.
Security Lighting
Installing security lighting outside your home can save you money. Unfortunately, theft is common, so we must do all we can to avoid being victims. Sufficient outdoor security lighting can lower the chances of break-ins and crime. By installing motion sensor lighting, you can detect movement on your property.
Professional Lighting Installation
From indoor lighting that adds to the décor in your home or lighting that give it practical value to outdoor lighting that can enhance your outdoor experience as well as create a more secure property, Home Service Heroes installs all types of lighting for your benefit. We are a professional company that takes pride in our work.
Call us at (813) 696-3398 for all your residential lighting needs in Tampa, FL, or contact us on our website for more information.