Repairing and Replacing Your Outlets and Switches in the Tampa Bay Area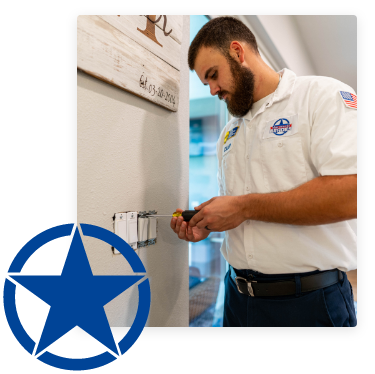 Whether we like it or not, outlets and switches are what enable us to utilize electricity daily. They have become a staple in our daily routines and are necessary for keeping most of our electronics charged and functioning. The number of electrical devices we use today has increased substantially and, as a result, each home must be equipped with more electrical outlets and be able to handle heavy electrical loads in most rooms.
If your room lacks the number of outlets it needs, it is typical for most people to fix the problem by using extension cords and power strips. However, this leaves your room with multiple power cords strung across the floor or along the walls – creating a safety hazard. Power strips are beneficial because they can expand the number of outlets you have at your disposal but they do not increase the amount of power that you can use in your room.
If you need to install more outlets (or a few have stopped working), give Home Service Heroes a call and we will help you repair the existing outlets or install brand-new ones for you. Having multiple power cords strung out on the floor of your home can be a mess and a safety issue. Fixing damaged outlets or installing new ones will be easier for you and create less hassle down the road.
Signs your Outlets or Switches Need to Be Replaced:
Flickering lights.
Burning smell or unusual odor near outlets or wiring.
Continually blown fuses or tripped circuit breakers.
Sizzling sound near-wall switches or outlets.
Outlet or switch that is not working.
Outlets and switches that deliver a slight shock when touched.
Call Home Service Heroes for an expert technician who will help you select the right number of electrical outlets and identify which ones need to be replaced. We are well-versed in installations for all kinds of outlets, switches, and accessories like dimmers. If you are already having issues with an outlet that's not working, we will troubleshoot the system for you and offer to fix it once we have identified the problem. We have a 24/7 emergency service line and the most professional licensed electricians in the Tampa Bay area.