Need electrical work done at your Florida home? Whether you require wiring, rewiring, safety inspections, or repair services for electrical problems, you can count on the highly-skilled professionals at Home Service Heroes. When you book our services, rest assured that you will get the best electricians in Tampa, FL.
Why Choose Home Service Heroes?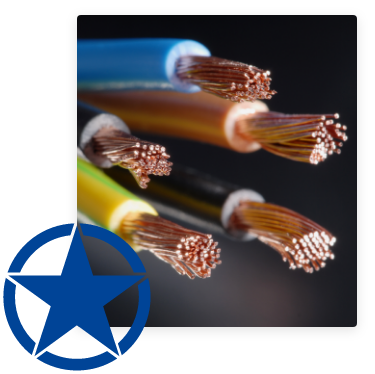 We have been providing homeowners in Florida with affordable and dependable electrical services since 1999. Our team of certified and insured electricians is adept at handling installations, replacements, repairs, maintenance, and more. Customer satisfaction is our highest priority.
We are proud to have been inducted into the Home Service Hall of Fame in 2007.
Contact Home Service Heroes to make an appointment and enjoy the same level of excellent services that we have been providing for over two decades.
Complete Range of High-Quality Electrical Services Near You
When you have an electrical problem or need new wiring, it certainly cannot wait. Putting off critical services can come with risks to you and your loved ones.
At Home Service Heroes, we know how important it is for you to have timely installations and repairs so that your home is safe. We make every effort to get to you as soon as possible. Don't hesitate to get in touch with our friendly team.
Our comprehensive range of residential services include:
From power restoration to surge protection and more, we will be there quickly to fix the problem and get you back on track.
Timely Electrical Repairs and Replacements
Our experienced electricians undergo regular, in-house training to keep up with the latest advances in the field. We are fully equipped with cutting-edge tools and technology.
Our repair and replacement services include:
Troubleshooting power outages, faulty outlets, and more
Flickering light repairs
Electrical panel repairs and replacements
Ceiling fan repair
Code inspections and corrections
Safety inspections
Thermal imaging testing
Home Service Heroes stands committed to providing honest and trusted services to its customers with same-day services and free estimates. Contact us today to schedule a repair or replacement appointment.
Reliable Electrical Installation Services
When you build a new house or remodel an existing one, reliable electricians are essential to your project's success. Our skilled team handles installations with care and professionalism every time.
We install numerous systems and features, including:
Indoor and outdoor lighting
Outlets
Basement finishing wiring
Carbon monoxide detectors and fire alarms
We also offer electrical services for remodeling projects in bathrooms, kitchens, and more.
From sophisticated fixtures to whole-home generators, we provide a highly personalized level of service, no matter your unique requirements. Don't hesitate to contact us at Home Service Heroes if you have any questions.
Wiring and Rewiring Solutions for Your Home
It is unsafe to have damaged or faulty wiring in your home. If you are building a new home or making additions to your existing property, trust our services to provide you with safe and efficient electrical solutions.
Some of our services include:
Appliance wiring
Hot tub wiring
Electrical panel upgrades
Aluminum wiring
Landscape wiring
Pool wiring
Electric fireplace wiring
No matter the size or scale of the project, we are confident that you will be pleased with the outcome. Talk to us about your specific project today.
Affordable Electrical Company in the Tampa Area
Home Service Heroes is your neighborhood electrician in Tampa, FL. We have been providing exceptional services to the local community for decades. From superior workmanship to timely appointments and cost-effective solutions, our team does it all.
Whether you need electrical inspections, installations, or repairs, we are your trusted contractor in the area.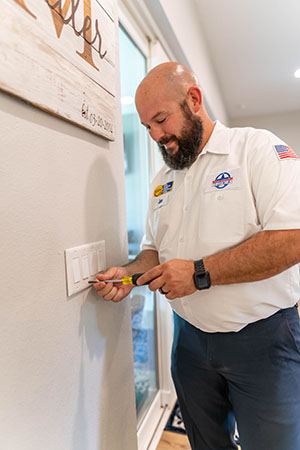 Keep your home's electrical system in peak condition with our expert care and in-depth technical knowledge. Contact Home Service Heroes to book an appointment.